Survey of State Plans | 2023 Occupational Safety and Health Webinar Series
March 14, 2023 at 12:00pm

–

1:00pm
(EDT)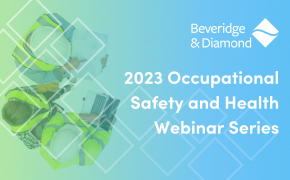 Please click here to view this webinar on-demand.
Kaitlyn Shannon (Principal, San Francisco) and Tracy Williams (Associate, Seattle) will provide a survey of state plans, focusing on those in western states. During the webinar, participants will learn about key ways state plans differ from federal standards. In particular, our speakers will discuss the refinery standards in California and Washington in light of Process Safety Management, heat illness in California and Washington, and the Washington statute of limitations provisions. The presenters will also address the potential revocation of Arizona's state plan.
There is no charge to attend this webinar, but advance registration is required. This series is intended for in-house counsel, EHS professionals, and business leaders at companies, municipalities, and trade associations. To request an invitation, please submit this form or contact [email protected].
---
Informed by the experience and insights of B&D's full-service OSHA and state OSHA practice, our annual Occupational Safety and Health webinar series provides practical knowledge to help corporate legal and EHS staff ensure that their companies comply with applicable occupational safety and health requirements and are prepared to defend allegations that compliance was inadequate. B&D's speakers examine important individual OSHA standards, rulemaking developments, and similarities and differences among state and federal worker safety requirements, and provide practical tips and best practices for employers.
Click here to view all programs in the 2023 OSHA Webinar Series.
Click here to view past programs in the Occupational Safety and Health webinar series on-demand.