April 28, 2015
/

Press Release/Firm Announcement
Beveridge & Diamond and Savoy Families Participate in Washington Nationals' Black Heritage Day
On Thursday, April 16, students from Savoy Elementary School in Washington, DC attended the Washington Nationals vs. Philadelphia Phillies baseball game as part of the Nationals' Black Heritage Day Celebration. The event was a coordinated effort between Beveridge & Diamond, the Greater Washington Urban League (the "League") and the Washington Nationals, and gave 27 children from Savoy and their family members a fun night at Nationals Park.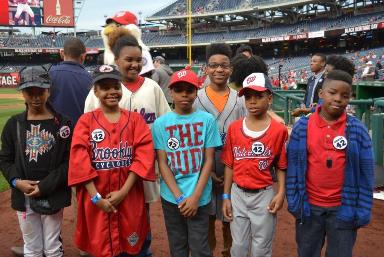 Black Heritage Celebration Participants
The children attended batting practice and received autographs from players. Two of the Savoy children (pictured at far-right of the photo above) participated in the pregame Black Heritage Celebration where they met with Jackie Robinson scholarship recipients, Screech (the team mascot), had their pictures projected on the Giant Screen, and, along with the Urban League, Nationals and Military Officials, watched the color guard present the U.S. colors and the National Anthem.
After the pregame celebration the children and their and families were seated on the third base line just six rows from the field.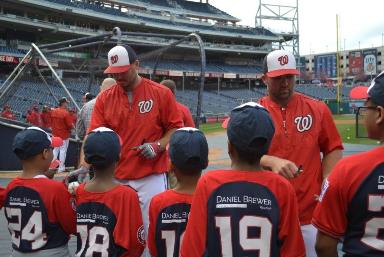 Students receiving autographs from Ian Desmond and Dan Uggla
The Black Heritage Day Celebration (originally called Jackie Robinson Day) is an annual event sponsored by MLB. 2015 marked Beveridge & Diamond's second year working with the League on this event. The League initially invited the firm to participate in 2014 after learning of our work with Savoy Elementary School.
Beveridge & Diamond and Savoy have been partners for over 10 years through a program spearheaded by the Washington Lawyers' Committee for Civil Rights and Urban Affairs.
Over the years, the Firm has engaged in diverse activities with the Savoy school such as teaching classes about the environment and the law, reading books with the kindergarten class, renovating the school library, school beautification projects, field trips with the students, and holiday gift drives. In addition, Beveridge & Diamond works with Savoy to help prepare students to participate in the city-wide GeoPlunge geography tournament. We are extremely proud of our Savoy students who won the 2014 Spring Tournament hosted at Redskin Park, and finished second in the Fall 2014 Tournament hosted at the National Portrait Gallery.
Learn more about the Environmental Education Course the Firm teaches.