May 27, 2016
/

Award/Recognition
Chambers USA Names Beveridge & Diamond U.S. Environmental Law Firm of the Year
On May 26, Chambers and Partners awarded Beveridge & Diamond the Chambers USA Award for Excellence in environmental law at its annual awards dinner in New York City. Each year, Chambers recognizes one law firm's preeminence in environmental law based on the firm's outstanding work, impressive strategic growth and excellence in client service performed over the past 12 months.
"We are proud to have our work and successes for our clients recognized," said Benjamin F. Wilson, Beveridge & Diamond's Managing Principal. "We are grateful for this prestigious award and appreciate Chambers' continued recognition of our regional, national and international practice."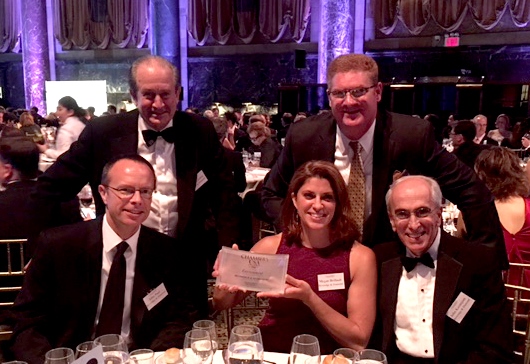 New York office attorneys John Paul, Steve Gordon, Megan Brillault, Rusty Pomeroy and John Kazanjian attended the Chambers awards dinner and received the Award for Excellence in environmental law on behalf of Beveridge & Diamond.
Chambers again named Beveridge & Diamond a leading environmental law practice nationwide and in California, the District of Columbia, Massachusetts, New York, and Texas in the just-released 2016 edition of Chambers USA Guide to the Legal Profession. In addition to firm-level rankings, Chambers recognized 12 lawyers as leaders in their fields. View Beveridge & Diamond's 2016 Chambers USA rankings.
Quotes from client reviews of the Firm include:
"I love the work they are doing for us. We have a great team and we trust their judgment. They bring the local, regional and federal knowledge."
"They really have a high level of commitment with their clients."
"They manage complex matters on a very large scale and they do it incredibly well. They are very, very knowledgeable."
"My go-to firm for complex environmental issues."
"They have great client service and bring a tremendous amount of expertise to the table."
The recognized Beveridge & Diamond lawyers are:
Beveridge & Diamond's 100 lawyers in seven U.S. offices focus on environmental and natural resource law, litigation (including toxic torts) and alternative dispute resolution. We help clients around the world resolve critical environmental and sustainability issues relating to their products, facilities, and operations.
For more information, please contact Janine Militano at [email protected].