Events
On-Demand Webinar: Impact of Emerging Plastics Regulations on Fashion and Textile Industries | Circular Economy and Plastics Webinar Series
March 18, 2021 at 12:00pm

–

1:00pm
(EST)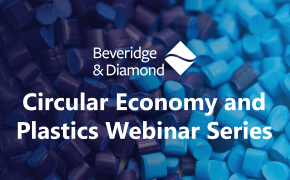 Please click here to view this webinar on-demand.
In the fifth and final program in B&D's Circular Economy and Plastics Webinar Series, Stacey Sublett Halliday (Independent Consultant for Beveridge & Diamond), Allyn Stern (Of Counsel, Seattle), and Dacie Meng (Associate, DC) will discuss the intersection of plastics and the fashion industry supply chain, the impact of international developments directly addressing textile and fashion waste, and related regulations impacting textile and fashion industries.
There is no charge to attend this webinar, but advance registration is required. This series is intended for in-house counsel, EH&S professionals, and business leaders at companies, municipalities, and trade associations. To request an invitation, please contact Alexa Curto, [email protected].
Additional programs in the Circular Economy and Plastics Webinar Series are available on-demand via the links below:
View On-Demand | Plastics Litigation: The Plaintiffs' Playbook (Recorded January 28, 2021)
View On-Demand | New International Waste Controls and Trade Bans on Plastics Shipped for Recycling (Recorded November 17, 2020)
View On-Demand | Agency Enforcement and Citizen Suits (Recorded September 30, 2020)
View On-Demand | Trends in U.S. and State Regulation of Plastic Production, Products, and Packaging (Recorded July 21, 2020)