News
May 24, 2021
/

Press Release/Firm Announcement
Beveridge & Diamond Salutes Alumnus Jon Cannon, Former EPA General Counsel, on His Retirement from UVA School of Law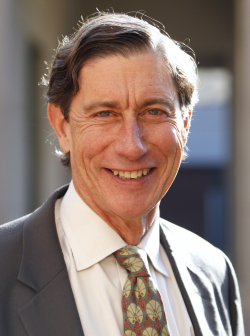 Capping a distinguished career in legal practice, government, and academia, Beveridge & Diamond congratulates our alumnus and former U.S. EPA General Counsel Jon Cannon on his retirement from the University of Virginia School of Law, where he is the Blaine T. Phillips Distinguished Professor of Environmental Law and the inaugural director of the Program in Law, Communities and the Environment.
Jon joined B&D in 1975 as the firm's first full-time associate. In 1986, he left the firm for a position at EPA, rising to serve as General Counsel from 1995 to 1998. Among his many accomplishments at EPA, Jon wrote the legal memo arguing for EPA's authority to regulate greenhouse gas emissions as pollutants under the Clean Air Act. This issue was central to the seminal 2007 Supreme Court case Massachusetts v. EPA that affirmed EPA's regulatory authority and set in motion multiple significant regulatory efforts aimed at addressing global climate change. In 1999, Jon re-joined B&D, where he served as Of Counsel until 2015.
On the occasion of Jon's retirement, B&D attorneys shared memories of working with Jon:
"The first associate at Beveridge & Diamond, Jon has always been a brilliant and thoughtful lawyer, and an even better friend."
- Ben Wilson (Chairman, Washington, DC)
"The many ripples flowing from Jon's enormous contributions to the environment, environmental law, and environmental lawyers will benefit us for generations to come. Few individuals have had and will continue to have such a constructive impact in government, academia and the private sector. Thank you, Jon, for all your leadership, friendship and mentoring. And a special thank you also for being the first person to interview me when I arrived at B&D's offices as a second year law student in 1983 looking for work and for helping me figure out that B&D was a place where I could thrive and contribute. Happy retirement!"
- Kathy Szmuszkovicz (Firmwide Managing Principal, Washington, DC)
"Jon played an outsized role in the early days of the firm. Of the 5 original lawyers, only one had experience in law practice and clients weren't exactly breaking down our doors. We were nervous.
"It was at this point, Jon accepted our offer to become an associate. He gave us a real boost, for we reasoned that if we were able to attract associates like Jon (who, in addition to his obvious legal talents, had clerked for Judge David L. Bazelon of the D.C. Circuit), we could probably make it as a firm. And so we have."
- Albert Beveridge (CoFounder and Senior Counsel, Washington, DC)
"As a young lawyer, Jon was legendary for working until very late at night when necessary and then literally running for miles from the firm to his home in Virginia. He was also consistently regarded as the smartest lawyer that those at the firm who worked with him had ever encountered, and yet perhaps one of the most modest."
- Hal Segall, (Managing Principal, Washington, DC)
"Jon has had an enormous influence on my career. I chose to go to UVA Law specifically because Jon had recently joined the faculty. I was his summer research assistant after my 1L year, and it was through him that I learned about B&D. Jon is a brilliant lawyer, with a deep love for and curiosity about the law and the environment. He is also a truly good person who cares about the people and environment around him. He has mentored so many people throughout his career. His retirement from UVA Law is a huge loss for the next generation of law students, but his legacy and impact will be felt for generations to come. I am immensely grateful for his teaching, mentoring, and friendship over the years."
- Nessa Coppinger (Principal, Washington, DC)
"When Jon arrived at our young firm he immediately raised the level of the quality of the lawyering by the few of us who were there by orders of magnitude. He was a consummate lawyer who brought extraordinary talent and dedication to everything he did. He would not write a sentence in any memo or brief until he was sure it was just right. Due to his excellence and sterling character, he was considered for and became a partner earlier than is usually the case. More important to me is that Jon became a dear friend. He was very supportive of me when I took on the role of the firm's first Managing Partner (as we were called in those days) for which I was extremely grateful as we carved out this new role in the firm. Over the years we shared memories of our time at Williams College and had many important conversations about law, life, and fitness (I thought I was pretty fit and had a pretty rigorous regimen but Jon quickly put that to shame - - and continues to do so to this day). Most of all we had soul-searching conversations about our families and the challenges of parenting. I treasure all my memories with Jon and will always treasure our friendship."
- Harold Himmelman (Senior Counsel, Washington, DC)
"If there ever has been an Environmental Renaissance Man, then surely it must be Jon Cannon. Few individuals have helped shape the environmental landscape in this country as much as this humble public servant. Over a career that spans more than 40 years he has been a legal advocate, policy-maker, scholar and teacher without equal. But for those of his colleagues and the many he has mentored, perhaps his most enduring quality is his genuineness and humanity. He has run the good race and set the standard for the rest of us. Congratulations to you, Jon, on your retirement."
- Tom Richichi, (Principal, Washington, DC)
"Jon was a mentor and was very influential in my development as an attorney. I worked with him when I was a young associate, and he taught me the importance of rigorous analytical thinking, fearless advocacy for our clients, and ethical behavior towards everyone, including opposing counsel. He also taught me the meaning of the word 'ineluctable' as used by James Joyce in Ulysses ('the ineluctable modality of the visible' means 'what you see is what you get')."
- Robert Brager (Principal, Baltimore)
"For many years Jon and I lectured together at the annual Georgetown Law Environmental course, and it was always a learning event for me, listening to him talk about current cases. He will always be famous for having written the memo during the Clinton Administration that paved the way for the ultimate regulation of greenhouse gases, but he has done so much more than that in his lifetime. We are friends. But he has often talked about his opening years at the firm, and gives special tribute to John Hanson as a mentor. Great praise by one of the best environmental lawyers I know."
- John Cruden (Principal and former Assistant U.S. Attorney General for Environment & Natural Resources, Washington, DC)
"Jon's intellectual enthusiasm is contagious. He inspired his students to approach solving environmental problems with creativity, intellectual rigor, and a deep concern for the world we live in."
- Elizabeth Richardson (Principal, Washington, DC)
"In the early days of our firm Jon and I worked together on many cases. We became, and remain, best friends. Later, when he was EPA General Counsel, we had the privilege of working on a case against each other. After he became a Law Professor he invited me on occasion to help teach some of his classes. Although he is junior to me as a Member of the Bar, Jon has always been senior to me in marshalling the English language to express ideas about environmental law."
- John Hanson (Principal, Washington, DC)
Jon kindly responded to our sentiments with a message of his own:
I worked at Beveridge & Diamond as associate, partner (twice!), and later senior counsel. The firm has been and will always be my practice home. I have great affection for the B & D community and many lasting friendships among the lawyers there. My early training and experience at the firm created the opportunities I later enjoyed in government service and academia. And the firm remains for me a model for combining excellence in serving client needs with a supportive working environment for its attorneys.
We wish Jon all the best in his retirement and thank him for his contributions to the firm and to the field of environmental law.