Publications
June 21, 2021
Podcast
Groundtruth: State Stories – Passing Environmental Justice Legislation
People Places Planet Podcast and The Environmental Law Podcast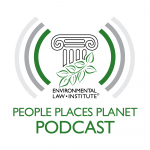 In the second episode of "Groundtruth," B&D Associate Hilary Jacobs (Washington, DC), speaks with Dr. Karla Drenner, a State Representative from Georgia, and Rebecca Saldaña, a State Senator from Washington, about the evolution of environmental justice (EJ) legislation in their states: Georgia House Bill 431 and the Healthy Environment for All (HEAL) Act in Washington, which Governor Inslee signed into law on May 17, 2021.
The speakers explore the history, evolution, and future of each piece of legislation, including its impetus, its implications, and what they have in common. The speakers also discuss how they worked with stakeholders, including industry, to advance the legislation.
"If we're doing EJ—environmental justice—at the permitting stage it becomes too late, if that's the only place we're looking at it... What we focused on is, how do we make sure that environmental justice is at the forefront of how our agencies look at strategy, at their strategic plans? How are they thinking about investments? And how are they shaping request legislation to the legislature? That's where we want environmental justice."

— Senator Saldaña
As a final point, Hilary invites the speakers to comment on why they've chosen to focus on EJ at this stage in their careers.
"Groundtruth" is a podcast series, produced in partnership with the Environmental Law Institute's People Places Planet Podcast, that explores EJ trends and developments. The first episode, "Groundtruth: New Jersey's Environmental Justice Law," aired in April.
Follow The Environmental Law Podcast on Spotify or your preferred podcast app. To receive B&D's updates on EJ developments and trends, subscribe to our email list here or follow us on LinkedIn at #bdlawEJ.