May 25, 2022
/

Award/Recognition
B&D Honored for Efforts to Secure Disability Access for Veterans
On May 25, Beveridge & Diamond was presented with an Outstanding Achievement Award by the Washington Lawyers' Committee for Civil Rights and Urban Affairs (WLC) for the pro bono work of a B&D team led by Principal Jamie Auslander (Washington, DC) to address the inaccessible restrooms at Walter Reed National Military Medical Center that wheelchair users have encountered for years. B&D and the WLC represented the Equal Rights Center and Mr. Sylvester Fiers, a local military family member and wheelchair user, who experienced difficulties accessing the restroom facilities at both Walter Reed and the adjoining Navy Exchange. The litigation resulted in a highly successful settlement that will ensure identification and remediation of noncompliant restrooms.
Jamie commented that "[w]heelchair users, including our country's veterans, deserve far better than conditions they have historically experienced at Walter Reed." He concluded: "Beveridge & Diamond appreciates our longstanding partnership with the WLC and the ERC and the opportunity to serve these important public interests." A link to the WLC's press release is here.
This case reflects B&D's longstanding relationship with the WLC and deep commitment to pro bono work. More than half of B&D's attorneys—Principals, Of Counsel, and Associates—participate in the Firm's pro bono efforts, and the Firm credits pro bono hours as billable hours applied towards bonuses and performance reviews. B&D's policy dispels any notion that associates must sacrifice career advancement to do good work for those in need.
The case is ERC v. Walter Reed National Military Medical Center, No. 8:18-cv-1278-PWG. Click here to access the original filed complaint, and read the settlement agreement here. For more information on the ERC visit equalrightscenter.org, for more about WLC visit washlaw.org, and click here to learn more about B&D's pro bono efforts.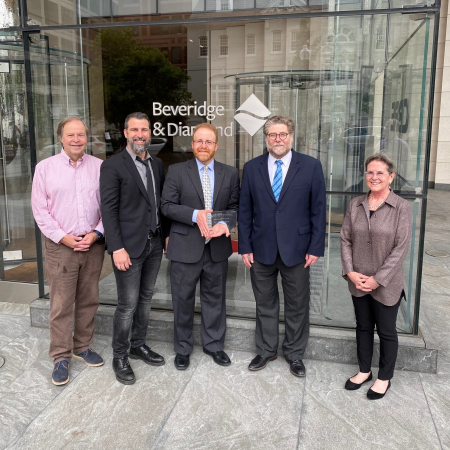 Pictured from left to right (B&D Pro Bono Chair John Guttmann, former B&D Of Counsel John Cossa, B&D Principal Jamie Auslander, WLC Executive Director Jonathan Smith, B&D Firmwide Managing Principal Kathy Szmuszkovicz)