February 1, 2022
Podcast
B&D's John Cruden Featured in ELI's People Places Planet Podcast about the Evolution of DOJ's Environment & Natural Resources Division
Beveridge & Diamond Principal and former Assistant Attorney General of the U.S. Department of Justice's Environment & Natural Resources Division (ENRD) John Cruden (Washington, DC) spoke with Nicole Noelliste, a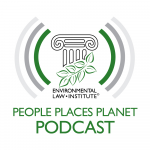 Managing Associate in the environmental practice at Sidley Austin LLP, and David Buente, former Chief of the ENRD's Environmental Enforcement Section, in a podcast titled, "The Enforcement Angle: DOJ's Environment & Natural Resources Division."
ENRD enforces the United States' civil and criminal environmental laws. John and David share insights on the organizational development of the Environmental Crimes Section and Environmental Enforcement Section of ENRD and discuss key landmark cases such as Love Canal, which John supervised while at ENRD. The episode is part of The Enforcement Angle podcast series, featuring conversations about state and federal enforcement of environmental laws and regulations with senior enforcement officials and thought leaders on environmental enforcement in the United States and globally.
Click here to listen to the podcast.