October 13, 2021
Podcast
Groundtruth: Operationalizing Environmental Justice
People Places Planet Podcast and The Environmental Law Podcast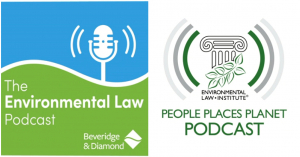 In the fourth episode of "Groundtruth," Gwendolyn Keyes Fleming, a partner at Van Ness Feldman, and Mustafa Santiago Ali, Vice President of Environmental Justice, Climate, and Community Revitalization for the National Wildlife Federation, discuss the Biden-Harris Administration's Justice40 initiative.
"Groundtruth" is a podcast series, produced in partnership with the Environmental Law Institute's People Places Planet Podcast, that explores EJ trends and developments. Listen to other "Groundtruth" episodes:
Beveridge & Diamond Associate Hilary Jacobs (Washington, DC) led the content development for this episode. Follow The Environmental Law Podcast on Spotify or your preferred podcast app. To receive B&D's updates on EJ developments and trends, subscribe to our email list here or follow us on LinkedIn at #bdlawEJ.