On-Demand Webinar: Air & Climate Change Initiatives in the Biden Administration | Biden Administration Webinar Series
April 29, 2021 at 12:00pm

–

1:00pm
(EST)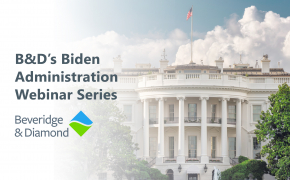 Please click here to view this webinar on-demand.
Informed by the experience and insights of B&D's multi-disciplinary team, our Biden Administration webinar series will continue on April 29. B&D's panel of speakers, including Laura LaValle (Office Managing Principal, Austin), Eric Christensen (Of Counsel, Seattle), and Zach Pilchen (Associate, DC) will examine the air and climate change initiatives of the new administration. The program will consider states' reactions to Biden air and climate actions, areas of focus for reduction of conventional air pollutants, and mobile source emissions regulation and enforcement priorities.
Subsequent webinars in our series will provide subject-specific deep dives on topics including energy and federal natural resources; ESG and sustainability; and international agreements.
There is no charge to attend this webinar, but advance registration is required. This series is intended for in-house counsel, EH&S professionals, and business leaders at companies, municipalities, and trade associations. To request an invitation, please contact Alexa Curto, [email protected].
Additional webinars in the series are available on-demand via the links below: