On-Demand Webinar: Biden Administration Priorities for Re-Engaging in Key International Agreements and Initiatives | Biden Administration Webinar Series
June 29, 2021 at 12:00pm

–

1:00pm
(EST)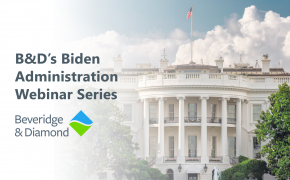 Please click here to view this webinar on-demand.
Informed by the experience and insights of B&D's multi-disciplinary team, our Biden Administration webinar series will conclude on June 29. B&D's panel of speakers, including Paul Hagen and Russ LaMotte (Principals, Washington, DC) will examine the Biden administration's priorities for re-engaging in key international agreements and initiatives.
There is no charge to attend this webinar, but advance registration is required. This series is intended for in-house counsel, EH&S professionals, and business leaders at companies, municipalities, and trade associations. To request an invitation, please contact Alexa Curto, [email protected].
Additional webinars in the series are available on-demand via the links below: