April 28, 2022
/

Media Mention
As Cal Ripken, Sr. Foundation Opens Most Recent Youth Development Park, B&D's Harold Himmelman Reflects on Opportunity to Serve
On April 22, the Cal Ripken, Sr. Foundation opened its 107th Youth Development Park and the first of its type – on the grounds of a Prince George's County, Maryland police station – where the Foundation will house its "Badges for Baseball" program. Maryland Governor Larry Hogan, Hall of Famer Cal Ripken, and numerous other leaders attended the ribbon-cutting, which received coverage in several Washington, D.C., and Baltimore metro area news outlets (see below). B&D Senior Counsel Harold Himmelman, pictured below, serves on a pro bono basis as Board Chairman of the Foundation, which builds parks and partners with organizations and law enforcement agencies across the U.S. to implement youth development camps, clinics, and programs.
"It's been my pleasure and privilege to work with Cal and Bill Ripken, Foundation and community leaders, and our generous network of partners and supporters to realize the vision of bringing vital and safe youth development parks and programs to reality in more than 50 communities in 42 U.S. states. This park is even more special as it will be a centerpiece of the Badges for Baseball program, facilitating outreach and engagement between law enforcement and young people in the community." – Harold Himmelman
As of April 2022, the Foundation has built 107 Youth Development parks in historically underserved neighborhoods across the country and has also sponsored 156 STEM centers. These facilities and programs have impacted over 1 million at-risk youth annually, providing them safe spaces to learn and grow. More parks and STEM centers are in the works.
Pictured below from left to right: Harold Himmelman, Harold's wife, Bonnie Himmelman, Harold's daughter, Liza Himmelman, and Cal Ripken, Jr.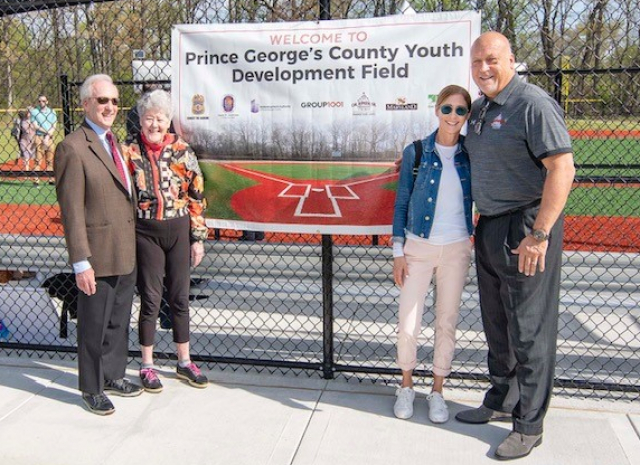 The following media outlets covered the "Badges for Baseball" park opening:
Beveridge & Diamond has a long tradition of public service. We salute Harold on his leadership role with the Cal Ripken Sr. Foundation and are proud to support lawyers and staff in the work they do to strengthen their communities. Whether it be through pro bono work, or leadership and volunteering with various organizations, we applaud the inspiring work our team contributes to improving society and particularly supporting those most in need.