July 14, 2022
/

Press Release/Firm Announcement
Beveridge & Diamond Creates Endowed Environmental Law Scholarship Fund at Howard University School of Law in Honor of Ben Wilson
In recognition of and with gratitude for a distinguished career of extraordinary service to our clients and to the firm, including several terms as the firm's Chairman, Beveridge & Diamond has established the Benjamin F. Wilson/Beveridge & Diamond PC Environmental Law Scholarship Fund at Howard University School of Law (HUSL). The fund, part of the school's endowment, will provide an annual scholarship that HUSL will award each year to a student who demonstrates an interest in pursuing a career in environmental law.
The firm announced the gift at an event on June 28, 2022 celebrating Ben Wilson's retirement from the firm and the practice of law at the end of 2021. At the event, Howard Law School Dean Danielle Holley said, "Ben is a true member of Bison Nation. We could not think of a more fitting tribute than to permanently celebrate his connection to Howard through the Beveridge & Diamond/Benjamin F. Wilson Environmental Law Scholarship that a student will receive every year."
Ben helped initiate the environmental curriculum at HUSL, and has taught environmental law there as an adjunct professor for many years. Dean Holley continued, "Ben, I asked students for words about you, and they called you 'professor, mentor, leader' and talked about your dedication to the legal profession over the last 40 years, your tireless efforts and support of Howard University School of Law, and your contribution to the ongoing fight for social justice. We celebrate your retirement from the law firm as well as your ongoing work at Howard University."
In announcing the scholarship fund, B&D Principal David Friedland said "Ben, in the spirit of everything you have done, we have created this endowment fund. We hope to have a wonderful event like this every year to which we'll invite the "Ben Wilson scholarship" recipients, so your legacy will carry on in many ways." B&D Firmwide Managing Principal Kathy Szmuszkovicz added, "Ben, the ripple effects of what you have done with and for all of us are going to be felt for generations. We're so grateful to you, and pleased to honor you with this scholarship."
Among his many accomplishments, Ben assisted in the creation of the National Environmental Justice Conference & Training Program, a 14-year ongoing partnership between HUSL, the U.S. Environmental Protection Agency, and numerous other public and private sponsors. Ben also served as a mentor and advisor to hundreds of lawyers and law students, with an emphasis on historically underrepresented populations.
If you would like to contribute to the Beveridge & Diamond/Benjamin F. Wilson Environmental Law Scholarship Fund, please visit: https://giving.howard.edu/givenow and (1) designate "Other;" then (2) enter "Benjamin F. Wilson Scholarship".
To contribute by check, please make payable to Howard University School of Law, write "Benjamin F. Wilson Environmental Law Scholarship Fund" on the memo line and send to:
Howard University School of Law
Office of the Dean
2900 Van Ness Street, N.W.
Washington, DC 20008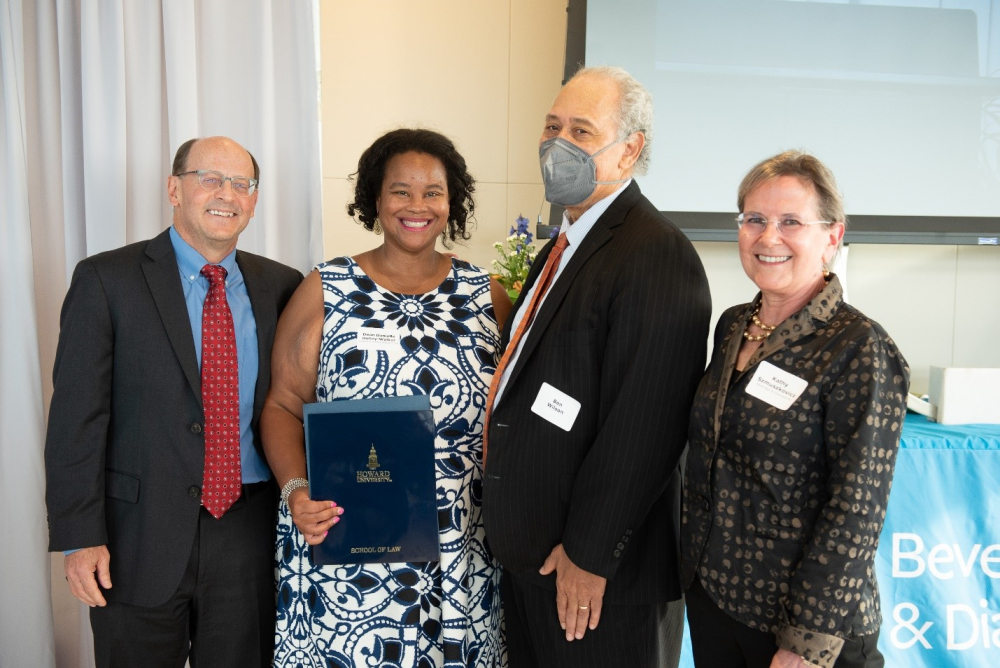 Pictured from left to right: B&D Principal David Friedland, Dean of HUSL Danielle Holley-Walker, Ben Wilson, B&D Firmwide Managing Principal Kathy Szmuszkovicz
The Benjamin F. Wilson Environmental Law Scholarship is one of several talent recruitment and pipeline programs organized by Beveridge & Diamond. These include the Henry L. Diamond Constitutional Environmental Law Writing Competition in partnership with the Environmental Law Institute and the Thurgood Marshall Opportunity Fellowship Program in partnership with the Maryland Attorney General's office.
Beveridge & Diamond holds top-tier national ratings for environmental law and litigation. Our more than 125 lawyers in 7 U.S. offices focus on assisting businesses and municipalities with traditional and cutting-edge environmental and natural resource matters, including emerging ESG, sustainability, climate change, and environmental justice issues, as well as nuisance, tort, and class action litigation. B&D is also a recognized leader on diversity, equity & inclusion and holds Mansfield Plus certification.
Founded in 1867, Howard University is a private, research university that is comprised of 14 schools and colleges. Students pursue more than 140 programs of study leading to undergraduate, graduate and professional degrees. The University operates with a commitment to Excellence in Truth and Service and has produced one Schwarzman Scholar, three Marshall Scholars, four Rhodes Scholars, 12 Truman Scholars, 25 Pickering Fellows and more than 165 Fulbright recipients. Howard also produces more on-campus African American Ph.D. recipients than any other university in the United States. For more information on Howard University, visit www.howard.edu.