April 9, 2021
Podcast
B&D Principal Julius Redd Kicks Off B&D and ELI Podcast Series on Environmental Justice
People Places Planet Podcast and The Environmental Law Podcast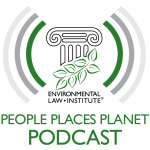 "Groundtruth" is a podcast series, produced in partnership with the Environmental Law Institute's People Places Planet Podcast, that explores trends and developments in environmental justice (EJ).
In the first episode of Groundtruth, B&D Principal Julius M. Redd (Washington, DC), speaks with New Jersey Senator Troy Singleton and New Jersey Department of Environmental Protection Acting Commissioner Shawn LaTourette, about New Jersey's landmark 2020 EJ law, S. 232/ A. 2212 (2020), which is arguably the most comprehensive EJ state law in the country. The speakers explore how the legislation originated, developed with stakeholder input, and ultimately passed after years of fits and starts. The group also discusses implementation plans for the bill and its implications for other state-level and federal EJ legislation.
"I think what's really exciting about this legislation and the rulemaking that will be promulgated pursuant to it . . . [is that it] has the potential to be a model for other jurisdictions that are also grappling with similar issues and how they might enact environmental justice legislation. We are already [seeing] in various jurisdictions that legislation is starting to be introduced that is modeled after this historic EJ legislation."

—Julius Redd
B&D Associate Hilary Jacobs (Washington, DC) led the content development for this episode.
Follow The Environmental Law Podcast on Spotify or your preferred podcast app. To receive B&D's updates on EJ developments and trends, subscribe to our email list here or follow us on LinkedIn at #bdlawEJ.