December 8, 2021
Podcast
Groundtruth: Environmental Justice in 2022 - Perspectives From EPA
People Places Planet Podcast and The Environmental Law Podcast
In the fifth episode of "Groundtruth," B&D Principal and former Special Counsel in the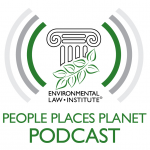 Environmental Protection Agency's (EPA) Office of General Counsel Stacey Sublett Halliday (Washington, DC) sits down with two environmental justice (EJ) leaders at EPA – Charles Lee (Senior Policy Advisor) and Matthew Tejada (Director of the Office of Environmental Justice) – to hear their insights on what's in store for 2022. Charles and Matthew discuss how far EPA has come, how to contextualize the change that we are seeing, key goals for 2022, and best practices for those trying to incorporate EJ considerations into their work.
"Are we witnessing something that's really transformational in terms of societal change with respect to environmental justice? I think I would say that I have never seen the kind of infusion of policy attention backed by financial resources and the kind of programming that's taking place. I have never seen that before."

— Charles Lee
Listen to the full interview with Charles Lee here and with Matthew Tejada here.
"Groundtruth" is a podcast series, produced in partnership with the Environmental Law Institute's People Places Planet Podcast, that explores EJ trends and developments. Listen to other "Groundtruth" episodes:
B&D Associate Hilary Jacobs (Washington, DC) led the content development for this episode.
Follow The Environmental Law Podcast on Spotify or your preferred podcast app. To receive B&D's updates on EJ developments and trends, subscribe to our email list here or follow us on LinkedIn at #bdlawEJ.