B&D Principal Marc Goldstein Moderates Panel for EBC Solid Waste Management Webinar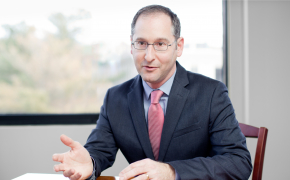 B&D's Marc Goldstein (Office Managing Principal, Boston) will moderate this EBC Solid Waste Management Program, which will provide a unique opportunity for attendees to hear from John Fischer, Deputy Division Director of Solid Waste Materials Management at the Massachusetts Department of Environmental Protection, and from each of the four regional MassDEP Solid Waste Section Chiefs. Particularly in this turbulent time, there is no better way to hear what's on the minds of the Solid Waste Section Chiefs, as the waste industry continues to serve as an essential business during the pandemic.
View full the full agenda here and slides of the presentation here.
Mr. Goldstein is the Managing Principal of Beveridge & Diamond's Boston office. His practice focuses on helping clients resolve environmental and land use disputes and to develop residential, commercial, and industrial projects. He co-authored "COVID-19 Impacts in Massachusetts: Massachusetts State and Federal Courthouses Re-Open In Phased Approach" a review of impacts to clients with pending matters in the state and federal courts, ongoing business operations in the Commonwealth of Massachusetts, enforcement considerations, and environmental compliance deadlines.
B&D's COVID-19 EH&S Resource Center is available as we work remotely throughout our seven offices, covering matters around the country and throughout the world.