John Cruden and Josh Van Eaton Presenting at ELI and State Energy & Environmental Impact Center Co-Sponsored Webinar
November 18, 2020 at 3:00pm

–

4:00pm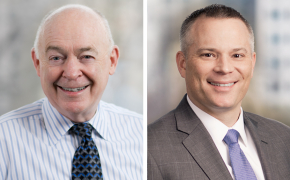 On November 18 from 3:00 pm - 4:00 pm ET, Beveridge & Diamond Principals John Cruden (Washington, DC) and Josh Van Eaton (Washington, DC) will join State Impact Center Executive Director David J. Hayes at a virtual webinar to celebrate the release of the book Looking Back to Move Forward: Resolving Health & Environmental Crises, co-hosted by Environmental Law Institute (ELI). This event is free and open to the public but you must register.
John and Josh authored a chapter entitled "The Volkswagen 'Dieselgate' Clean Air Act Settlement," which examines the events leading to the consent decrees between the federal government and Volkswagen (VW) in the "Dieselgate" emissions cheating scandal. Looking Back to Move Forward: Resolving Health & Environmental Crises, published by the New York University (NYU) School of Law's State Energy & Environmental Impact Center (State Impact Center), examines how major health and environmental crises have been resolved in the past, and the learnings that we should take away from that history.
Joining John and Josh, other participating authors on environmental crises will include Liz Klein on the settlement of claims from the 2010 Gulf of Mexico oil spill; and Katherine Probst on the enactment and implementation of the Superfund program. The webinar will also feature Carol Jones of ELI on the asbestos mass health crisis; Hampden T. Macbeth on the childhood vaccine crisis of the 1980s; Joelle Lester and Kerry Cork (via video recording) on the Tobacco Master Settlement Agreement; and Logan Page on the pathway to providing relief to the DES Daughters through the development of market-share liability.