July 23, 2022
/

Award/Recognition
Raven Hayes Selected for the NBA's Associate Advancement Academy for Excellence, Majidah Cochran Graduates from its Inaugural Class
This past weekend, at the National Bar Association's (NBA) 97th Annual Conference, Associate Raven Hayes (Washington, DC) was introduced as a fellow for the 2022-2023 NBA Associate Advancement Academy (Academy), and Associate Majidah Cochran (Seattle) graduated from the Academy's inaugural class. Majidah was among the few first-year associates selected and the youngest fellow. Majidah also received the Trisha CK Hoffler Community Builder Award, a recognition given to a social Academy student who actively cultivated meaningful connections with classmates.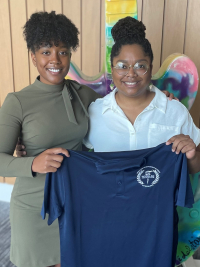 Picture above: Majidah Cochran and Raven Hayes
"I learned a lot from this Academy and have gained invaluable insight from the Academy organizers, mentors, and faculty as well as my cohort," Majidah says. "I am so thrilled that Raven has been selected to experience this, too. I really value how much B&D has continuously invested in our professional development."
"As a first-generation attorney, I am so grateful that I was selected to participate in the Academy," Raven says. "I'm excited to gain valuable lawyering skills and build lifelong connections with my cohort and mentors. It truly means a lot to me that B&D is more than willing to invest in the advancement of both my and Majidah's careers!"
The Academy is a yearlong program designed to facilitate the advancement and retention of Black attorneys in the nation's largest law firms, focusing on associates within the first three years of practice at AmLaw 200 firms. The program entails participation in educational and networking sessions, mentoring from more senior NBA members, and attendance at annual NBA events.
B&D has a long-standing relationship with the NBA, including sponsoring its conferences throughout the years.