Ethylene Oxide
Comprehensive regulatory, enforcement, and litigation capabilities for EO manufacturers and users
Industrial manufacturers and users of ethylene oxide (EO), including sterilizers, face unprecedented regulatory scrutiny and litigation risk in the wake of the U.S. Environmental Protection Agency (EPA's) controversial revision of its Integrated Risk Information System (IRIS) value for EO in 2016. That new IRIS value increased a calculated risk of low-level EO exposure by 1-2 orders of magnitude, triggering a cascade of legal activity, including:
New federal and state laws and regulations that impose significantly more stringent standards on EO emissions;
Increased federal and state oversight, inspection, and enforcement of industrial EO manufacturers, users, and sterilizers, including facility shutdowns in some cases;
Listing and publication of purportedly "high-risk" facilities based on their EO emissions, including public meetings to notify nearby communities of their alleged increased cancer risks;
A wave of toxic tort suits against EO manufacturers and users;
Media and regulatory association of EO with environmental justice issues.
Our Approach & Experience
B&D's EO Task Force brings together an unparalleled combination of regulatory expertise and litigation strength to manage EO issues in a comprehensive and coordinated fashion. Drawing on decades of experience representing clients under the Clean Air Act (CAA) that includes a wide range of auditing and facility assessments, enforcement and citizen suit defense, and toxic tort litigation, our EO practice provides clients a full suite of legal services focused on the unique risks and issues associated with EO. Our current EO portfolio includes: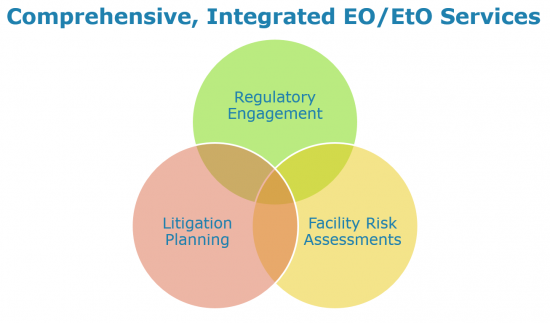 EO Toxic Tort Litigation
We represent two chemical manufacturers in two separate toxic tort actions, each brought by 10-15 plaintiffs who allege cancer caused by exposure to EO emissions from our clients' EO manufacturing plants in Louisiana. Each case was initially filed in Louisiana state court. B&D successfully removed both cases to federal court. Plaintiffs in each action named several individual plant employees, and B&D defeated claims against senior officers of those companies whom the courts agreed were improperly joined to defeat diversity jurisdiction, resulting in the cases staying in federal court. Both cases are now in various aspects of the discovery phase.
EO Rulemaking
IRIS Value Challenges. We represent a major chemical industry trade association with judicial and administrative challenges relating to EPA's use of the flawed IRIS value for EO. We also helped the client develop scientific, technical, and legal comments challenging the validity of EPA's IRIS risk assessment as the basis for its evaluation of EO emission risks.
Sterilizer Rules. We counsel clients on developments related to the EO IRIS risk assessment and possible changes to the EtO Emissions Standards for Sterilization Facilities in 40 CFR Part 63, Subpart O (NESHAP). For a trade association that represents major sterilization companies, we provided an overview of the regulatory and litigation landscape for EtO, and we continue to provide counseling on EtO issues.
Chemical Sector ICR. We represent several companies that are responding to EPA's recent CAA Information Collection Request (ICR) in relation to chemical sector rulemaking. The ICR—prompted in large part by the revised EO IRIS value—is one of the most comprehensive EPA has issued in its history, entails tens of thousands of individual requests, and seeks substantial confidential business information and fenceline monitoring.
Facility Risk Assessments
Strategic Compliance Assessments in Louisiana and Texas. We have developed a proprietary approach both to EO regulatory monitoring and risk assessment, and to managing environmental and emerging contaminant litigation, including citizen suits, putative class actions, nuisance actions, and mass torts. Using this approach, we helped prepare two companies in EPA Region 6 to assess their potential enforcement and litigation risk. In another case, we utilized a state audit privilege act to identify and disclose violations to the state agency without penalties.
Facility EO Listing. We recently helped a company successfully avoid being listed on EPA's list of high-risk facilities by showing EPA that its EO emissions data were inadvertently overcalculated.
Public Meeting Preparation. We advised several companies who were designated high-risk EO facilities how to prepare for EPA's public meetings. We have attended every public meeting EPA has held on EO manufacturing facilities.
Enforcement Defense
FIFRA Regulation. We advise companies on all aspects of the regulation and defense of EO sterilizers under the Federal Insecticide, Fungicide, and Rodenticide Act (FIFRA) and analogous state laws, including with respect to EPA product distribution and labeling requirements.
NSR Permit Defense. We successfully represented a health care company to defend its New Source Review (NSR) authorization for EO emissions for a sterilization operation in Texas. Using updated emissions/exposure analysis, we avoided agency enforcement.
EO Inspections. We are representing several EO chemical manufacturers who have had EO-focused inspections by EPA under the CAA and its Risk Management Program (RMP). We have helped our clients manage inspections, respond to information requests, and address monitoring reports.
Compliance Assistance With Process Safety Requirements
We have assisted a petrochemical manufacturer evaluate its compliance with the CAA RMP requirements and OSHA's process safety management standard as they relate to EO, and made recommendations for corrective actions.
Chemical Regulation
Toxic Substances Control Act (TSCA). We closely monitor EPA activities and priorities under TSCA for EO. We can respond quickly with advocacy.
Thought Leadership
Our EO Task Force closely monitors a wide range of EO developments and regularly publishes updates. Key legal periodicals, including National Law Journal, Lexology, and JDSupra frequently republish our work. Recent articles include: