Events
On-Demand Webinar: Enforcement Priorities of the Biden Administration | Biden Administration Webinar Series
April 7, 2021 at 12:00pm

–

1:00pm
(EDT)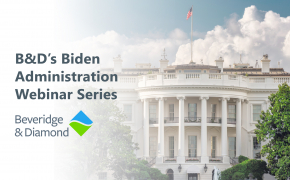 Please click here to view this webinar on-demand.
Informed by the experience and insights of B&D's multi-disciplinary team—including members with former senior U.S. and state government experience—our Biden Administration webinar series will continue on April 7. B&D's panel of speakers, including John Cruden (former Assistant U.S. Attorney General, Environment & Natural Resource Division), Josh Van Eaton (former Senior Trial Attorney, Environment & Natural Resource Division, and Lead Counsel in the United States v. Volkswagen AG, et al.), and Allyn Stern (former U.S. EPA Region 10 Counsel), will examine the enforcement priorities of the new administration.
Subsequent webinars in our series will provide subject-specific deep dives on topics including air and climate change; energy and federal natural resources; ESG and sustainability; and international agreements.
There is no charge to attend this webinar, but advance registration is required. This series is intended for in-house counsel, EH&S professionals, and business leaders at companies, municipalities, and trade associations. To request an invitation, please contact Alexa Curto, [email protected].
Additional webinars in the series are available on-demand via the links below: